SOUTH FLORIDA EXPERTS IN FLOOR REMOVAL AND KITCHEN/BATH DEMOLITION​
Located in Pompano Beach JBL Flooring Solutions is South Florida's leading provider for residential and commercial floor removal, demolition, and industrial concrete floor treatment services. As a family-owned business, we treat every job like it was in our own home or business. From start to finish we take pride in our customer service, support, and professionalism.
We build strong relationships with our customers in order to provide the ideal solution for every unique job. We are licensed and insured with years of experience and expertise in the flooring industry. Our work crews are bilingual, and all employees are drug tested to ensure only those who reflect our company values are trusted with your project.
JBL Flooring Solutions provides all of our clients with the following services:
On time / In budget performance
On site estimates
Commercial grade, company owned equipment
HEPA filtered vacuums, pulse vacs, and air scrubbers
No harsh Chemicals or solvents
Dust reduction and elimination process's
On site generators
Custom ramps to protect thresholds
Kitchen and Bath Demolitions
Complete debris removal and site clean up
Licensed, insured and drug tested employees
Trained, experienced, professional bilingual workcrews
Quality, Integrity and Professionalism in all we do
Our emphasis is on integrity, professionalism, and customer service throughout our entire process. This dedication to professionalism means honest, transparent estimates and pricing with no "bait and switch". We perform in budget and on time without ever sacrificing on the quality of workmanship or results. We work in a clean, safe, efficient manner that can complete most jobs in a single day. We come to your job ready to work, making the most of our time and yours, so that you can move on with your project once we are complete.
Professionalism means nothing if there aren't quality results. Each of our work crews have many years training and experience. This makes a huge difference in the operations of any equipment and the ability to remove the most difficult materials We make fast, clean, and complete removal all types of flooring materials , thin sets, mortars, glues and adhesives. We don't use harsh chemicals or solvents that can harm others or pets.
Our use of industrial HEPA filtering vacuum systems and air scrubbers meet OSHA standards and minimize all dust. All surfaces are covered and taped off as well, dramatically reducing dust and allowing for a fast, complete project with a through clean up. We pride ourselves on taking care of our customers facilities, and property. So…no matter what the goal is you have for your new flooring or remodel project, we can help complete it quickly & effectively.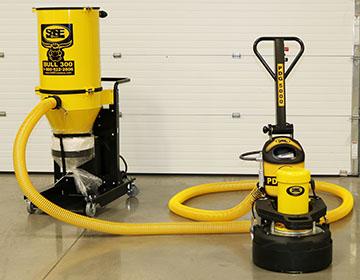 Versatility of Service Offerings
JBL Floor Solutions is more than just an expert commercial and residential flooring removal company. We also provide kitchen demolition and bath demolition services. No need to hire any additional contractors for demolition or concrete sub floor minor repairs. Our teams can clean out and seal cracks, repair spalls, and imperfections to your concrete providing you with the best possible surface to build upon.
See our Services tabs for additional information on specific commercial, residential and industrial flooring services.
All of our services also include clearing debris and removal of any waste as a result of  demolition or repairs to leave you a perfectly clean surface that is ready to go.
Need weekend work for your project? We can provide weekend services but those times fill up fast, so get with us as soon as possible.
Please give us a call at 954-532-9677. We would love to learn about your project and show you how JBL Flooring Solutions can be a valued service provider and partner.